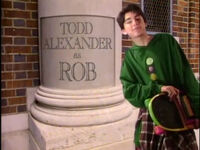 Todd Alexander Cohen (born 1979, New York City, New York, USA), is a former American child actor. He portrayed the role of Rob Baker, in the Children's PBS show "Ghostwriter", in which he was credited as just Todd Alexander.
Todd appeared first in the intro since they were shown in alphabetical order. He left the show during the middle of the second season for unknown reasons.
Before he came to the show he made one appearance in an episode of the program "Kate & Allie" as Dominic. He also appeared in the T.V. Movie Lean on Me as Derrick. He has done no other acting since he final appearance on Ghostwriter.
Gallery
Ad blocker interference detected!
Wikia is a free-to-use site that makes money from advertising. We have a modified experience for viewers using ad blockers

Wikia is not accessible if you've made further modifications. Remove the custom ad blocker rule(s) and the page will load as expected.