Tina Nguyen
Talk

0
59pages on
this wiki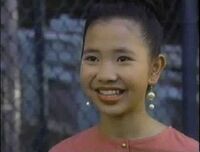 Tina Nguyen was the fifth teenager to see the titular character in the PBS Kids series, Ghostwriter. She was portrayed by Tram-Anh Tran.
Highlights
Edit
Tina is of Vietnamese American heritage. Most of her family came to America from Vietnam to start a new life. As such, Tina was the first member of her family born in the United States. In the meantime, Tina, alongside her best friend Gaby Fernandez, attended George Washington Elementary School. Tina was a young camerawoman for the school's television news team. She and Gaby would sometimes work together and do reports on happenings in their Fort Greene neighborhood (namely a suspicious fire at an electronics store). Tina was also learning to become an actress and attended improv classes. One time, she served as the secretary for a famous 1930s actress named Lana Barnes.
On another note, Gaby's brother Alex Fernandez has a crush on Tina.
Major Storylines
Edit
Ghost Story--Tina's first appearance (Alex...Alex!)
Who Burned Mr. Brinker's Store?--Ghostwriter appears to Tina; Tina helps in an investigation to find out who burned down an elder man's electronic shop
Who's Who--Tina gets a secretarial job working for famous actress Lana Barnes. Meanwhile, someone keeps calling Lana's apartment and not saying anything. Furthermore, someone (apparently) is after Lana, now that her lifetime achievement recognition ceremony is coming up. Who's after Lana? Who on earth keeps calling the apartment and staying quiet?
Lost in Brooklyn--At her first day of school in Hurston, Tina befriends the daughter of a Mozambiquan emissary to the United Nations, Safira. Safira's family is in New York on the cause of her father attending a conference. Meanwhile, Safira is looking for help to find her lost older brother Malenga.