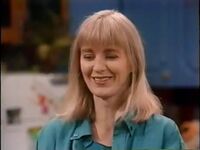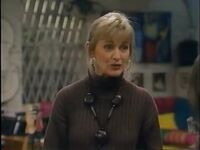 Sally Lewis (portrayed by Caroline Lagerfelt) is a former resident of the United Kingdom, a few years prior to the events of the series, she still lived in the United Kingdom. She soon moved to the United States of America because her husband Colin got a job transfer.
She is a friend of Lenni Frazier and later on a girlfriend of her father. Like Lenni, she too fights for what is right. Sally works at the local youth center running the poetry seminar. She also runs he free food program for the elderly. Also the Big Sisters program, and the Fort Greene Community Garden.
Lenni has a somewhat estranged relationship with Sally. Always mad at her, always offended by her, worst yet, Lenni thinks by dating Sally, her father Max would forget about her late mother. But in the end, Lenni always ended up short changing Sally and manages to forgive her.
Sally is first introduced in "Into the Comics" where Rob met Double-T after he read one of his poems.
One of Sally's key roles was in "Over a Barrel" at the local garden where she and the team work at. But strange fumes which made everybody sick and animals die caused Sally and the team to investigate where it was coming from which they did.
Also during this time, she and Max Frazier got to know each other. She revealed to him that she had recently gotten divorced from her husband Colin. Also that she has two children Simon and Elisabeth, who went back to the United Kingdom with their father for the school year. Also that she wouldn't see them again, until the following summer.
Another notable appearance was in "Don't Stop the Music" where Sally and Max were very supportive of Lenni in making a music video for Smash Records.