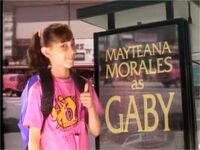 Mayteana Morales (born on October 30, 1981) is an American actress\singer who is best known for her role as Gabriella "Gaby" Fernández on "Ghostwriter" for two seasons.
Near the start of the show's third season, Mayteana left for unknown reasons and was replaced by actress Melissa Gonzalez.
These days, Mayteana performs with her husband, Felix Slim in a music duo called Lucky Lokos and also has her own funk/boogie band called the Stereophytes.
Trivia
Raised in Hempstead, New York.
Growing up, she took ballet and jazz classes every Saturday.
Graduated from New York University in 2003 with a major in drama.
Was a member of music groups Seven & Counting and The Pimps of Joytime.
Had an uncredited part in the 1991 film "New Jack City" as a kid in the playground.
Showed off her rapping and singing skills on "Ghostwriter".
Gallery
Mayteana Sings
External Links