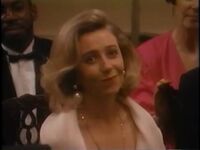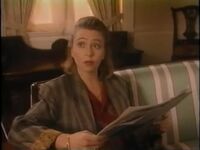 Janine Peretti (portrayed by Gretchen Krich) is Lana Barnes' only daughter and also the daughter of Lana's second husband Carlo Peretti.
Janine was suspected by the team of attempting to kill her mother because Janine was snubbed by her own mother for years because Lana hardly had any time for her. She almost dashed out of the award ceremony after seeing the fake Lana (Roberta Halton) pass by her. Then, after a little encouragement from the team, Janine went back in and eventually finally had a chance to speak with her mother. At the end of the episode arc, they were off to go horseback riding with Lana's first husband Alan Charles.
Ad blocker interference detected!
Wikia is a free-to-use site that makes money from advertising. We have a modified experience for viewers using ad blockers

Wikia is not accessible if you've made further modifications. Remove the custom ad blocker rule(s) and the page will load as expected.