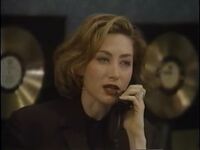 Jade Morgan (portrayed by Annabelle Gurwitch) is the president & CEO of Smash Records, a music company where Lenni Frazier presented her song "You Gotta Believe." Formally, she worked at In Your Face Records alongside her partner and publicity director Sonya Ivey. Sonya stayed with Jade when they left that company together and started Smash Records.
One day, Jade called Lenni to tell her that she heard her song at the Star Jam! in Hurston and asked her to do a new song at Smash which she did. Jade liked the song very much that she decided to make a music video of that song. But while the filming occurred, strange accidents have occurred including a blackout, a light coming down from the ceiling, copies of video tapes erased and the original stolen. But the team got together, solved the mystery, caught the culprit and saved Jade and her company.
Gallery
Ad blocker interference detected!
Wikia is a free-to-use site that makes money from advertising. We have a modified experience for viewers using ad blockers

Wikia is not accessible if you've made further modifications. Remove the custom ad blocker rule(s) and the page will load as expected.