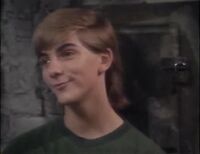 Craig was portrayed by Growing Pains alumnus Jeremy Miller.
Highlights
Craig Mitchell was a character whose sole appearance on the PBS children's show Ghostwriter was during the episode "Who Burned Mr. Brinker's Store?" Craig was a gifted electronics expert, who proved invaluable in figuring out the truth behind what really went on within Mr. Brinker's electronics shop. He later got a special visit from a certain invisible friend to Jamal Jenkins and company.
Ad blocker interference detected!
Wikia is a free-to-use site that makes money from advertising. We have a modified experience for viewers using ad blockers

Wikia is not accessible if you've made further modifications. Remove the custom ad blocker rule(s) and the page will load as expected.