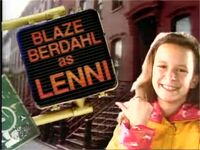 Blaze Berdahl (born Blaze Autumn Berdahl on September 6, 1980) is an American actress & singer who grew up in New York City who is best known for her role as Lenni Frazier on the PBS kids' show "Ghostwriter".
Before "Ghostwriter," Blaze made her acting debut in the 1989 film "Pet Sematary". She also provided the voice of Buster in the 1993 animated film "We're Back! A Dinosaur's Story, along with fellow cast member Joey Shea who did the voice of Louie.
These days, Blaze works as a voice-over actress & announcer.
Trivia
Her mother, Rita is a teacher and her father Roger is an actor..
She has a twin sister named Beau (who is a minute older than her), who works as a talent agent and an older brother, Sky, who works as a periodontist.
Is of Scandinavian and Ashkenazi descent.
Attended Bucknell University where she graduated in 2002 with a double major in economics and political science. She is a member of the Phi Beta Phi sorority and an alumni of an a cappella singing group at Bucknell called Two Past Midnight
Married Stephen M. Tvardek (who works as an S&P futures trader) in Boiceville, New York on July 15, 2007.
Gallery
Blaze in a Reese's Peanut Butter Puffs Commercial
External Link
Ad blocker interference detected!
Wikia is a free-to-use site that makes money from advertising. We have a modified experience for viewers using ad blockers

Wikia is not accessible if you've made further modifications. Remove the custom ad blocker rule(s) and the page will load as expected.